>> Rarity Alerts
---
Tundra Swan (Cygnus columbianus), Western Galilee, 29/JAN/06
Tomer Landsberger
The following image was taken by Rei and Gidon Segali at Shlomi reservoir in the western Galilee.

Due to the distance and lack of suitable optics, the observers were unable to identify the species of Swan in the field, but took some record shots.
After a close examination of the photos, the bird was identified as a Tundra Swan, an occasional winter visitor in Israel with about 12 records, most recent one being from last winter.

The bird was searched for on the 30th but was not located.
Tundra Swan (Cygnus columbianus)
Western Galilee, 29-JAN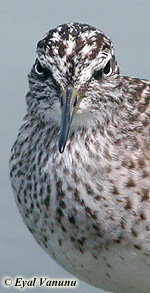 Wood Sandpiper
(Tringa glareola) Ma'agan Michael, Aug.05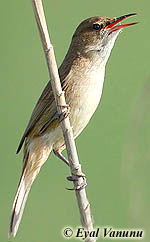 Clamorous Reed Warbler
(Acrocephalus stentoreus) Ma'agan Michael, Jul.04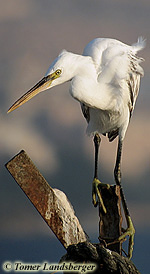 Western Reef Heron
(Egretta gularis) Eilat, Feb.05