>> Rarity Alerts
---
Kurdish Wheatear (Oenanthe xanthoprymna), Mar/2008
On March 6th, Thomas Krumenacker found a male Kurdish Wheatear at Neot Smadar's sewage pools, a real hotspot for wheatears of all species. The bird was last seen on March 10th.
On March 13th, Tuvia Kahn found another bird, also a male, at Rishpon shore in the Mediterranean coast.
This species is a very rare migrant and winter visitor in Israel. The previous record is from east Samaria in March 2006.


Kurdish Wheatear (Oenanthe xanthoprymna)
Rishpon
Kurdish Wheatear (Oenanthe xanthoprymna)
Neot Smadar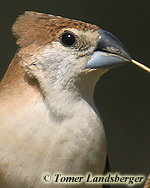 Indian Silverbill
(Lonchura malabarica) Bet HaShitta, Aug.06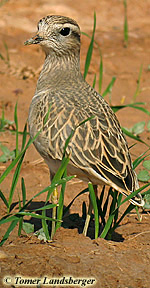 Dotterel
(Charadrius morinellus) Yotvata, Dec.05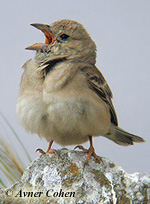 Pale Rock Sparrow
(Petronia brachydactyla) Central Negev, May.06