>> Birding Reports
---
North-western Negev, 15-17/DEC/05
Barak Granit
During last Thursday and Friday me and Eyal Shochat hung around in the north-western Negev and on Saturday I hung around there with Rony Livne. We were concentrating in the Urim area in particular.
North of the gas station at Urim Junction, we had a male
Pallid Harrier
, about 600-800
Pin-tailed Sandgrouses
, 14
Imperial Eagles
, a few
Long-legged Buzzards
and thousands of
Black Kites
. I also had there one
Oriental Skylark
.
Along the famous power line we had some more
Imperial Eagles
, another 2
Pallid Harriers
, 10
Hen Harriers
, about 7
Merlins
, 9
Peregrins
and one adult
Saker falcon
.
We also checked the natural habitat which is located west and south of Hatzerim. We managed to locate 7
Dotterels
, 2 male
Pallid Harriers
, a few
Finch's Wheatears
and many
Isabelline Wheatears
.
However, although we tried hard during the 3 days, we failed to locate the
Sociable Plovers
.
On Saturday I went back there and had a splendid experience as one Houbara Bustrard walked on the dirt track just in front of my car. Unfortunately, I had opposite light so the photos are not as amazing as they could have been.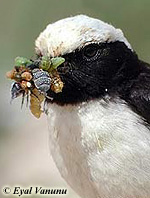 Mourning Wheatear
(Oenanthe lugens) Sde-boqer, Jul.04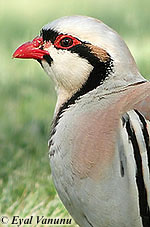 Chukar
(Alectoris chukar) Sde Boqer, Apr.04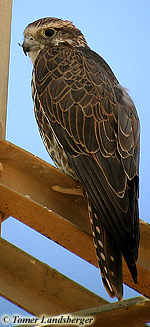 Saker
(Falco cherrung)Western Negev, Nov.05