>> Birding Reports
---
Western Negev, 02-04/DEC/05
Avner Cohen
I headed down to the Western Negev hoping to see the Dotterels that were reported earlier this month by Ido Tsurim. With specific directions from Rony Livne I managed to locate their favored spot in the middle of the Houbara Bustard reserve. The birds were visible from a nearby dirt road but I had to do some walking to get closer for photography. I counted 150 birds there, as mentioned by Ido earlier, this is a high number compared to last years sighting of this species.

On the way to this spot I also saw a Steppe Shrike (Lanius pallidirostris), a rare winterer in Israel.

Around this area I also saw a flock of 200 Golden Plovers and about 10 Imperial Eagles.

Furthermore, the

Saker

was seen on the exact same pylon that had become his regular perching spot in the past few winters.

On the 3rd of December, Rony Livne had an incredible day-light encounter with an Eagle Owl standing in an open fields near the Orim-Ofakim line and being mobbed by the local Raptors and Crows.

Rony also managed to get good shots of the

Dotterels

.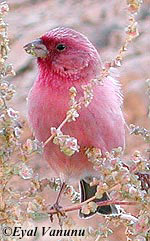 Sinai Rosefinch
(Carpodacus synoicus) Wadi Hava, Oct.05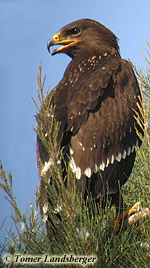 Lesser Spotted Eagle
(Aquila pomarina) Bet Shean valley, Oct.05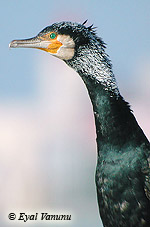 Great Cormorant
(Phalacrocorax carbo) Acre, Jan-06