On the April 28th, I traveled south to the Arava. The day started quietly at the Km 77 green patch, a place that proved fruitful this year. There I saw several tens of Steppe Buzzards getting ready to continue on their migration, and a flock of 30 Lesser Kestrels, which were hunting around for insects. Also there was a female Rock Thrush and a nice group of 3 adult male Golden Orioles, sharing a bush with a European Cuckoo, while a second Cuckoo sat on another bush 20 meters away.
I continued on my way south, passing in several date plantations but seeing nothing of note. What was very obvious was the bad weather – hot and dry, with clouds of sand covering the sun - not good for migration.
I finished the day at the north beach where aside from the Brown Booby, which was still showing well, I saw good numbers of Common Terns, 2 Parasitic Skuas and 5 Gull-billed Terns.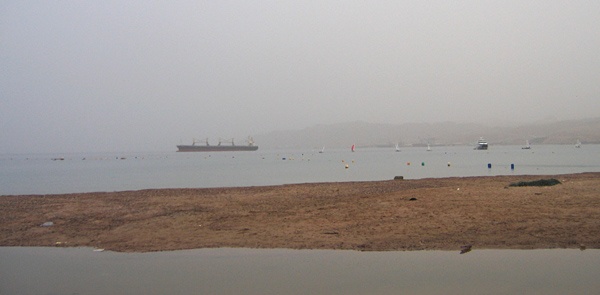 Eilat's north beach

The next day did not allow for much birding and I was birding again on the 30th.
I started the day at the Km 20 salt pans, where I found a single Red-necked Phalarope. The bird was very wary and kept swimming among the hundred or so Greater Flamingos there, among them, the Lesser Flamingo (the 1st record for Israel) was still present.

The weather did not change much but I decided to try for some migration and went up to the mountains. Not many birds showed up and in 4 hours there I counted about 400 Honey Buzzards, 50 Steppe Buzzards and singles of Marsh Harrier, Booted Eagle and Short-toed Eagle, very low numbers for the date.

I started the next day in the IBRC Eilat for a ringing session. I met up with Noam Weiss there who reported a Bar-tailed Godwit and Sooty Shearwater he saw at the sea that morning.


I stayed there for a couple of hours in which we ringed a single female Levant Sparrowhawk, a species that usually at these dates is ringed in much greater numbers.
Later on, Noam had located the Bar-tailed Godwit at the southern salt pans, along with a Black-winged Pratincole.
Arriving there we noted good numbers of waders, among them several Curlew Sandpipers and Broad-billed sandpipers.

We then continued to the Km 19 cowshed, where in the reeds we saw a Black-headed Bunting with a twin looking Black-headed Wagtail (M. f. feldegg). Back at the beach we had a Steppe Gull (L.c. barabensis), and a Whimbrel arriving from the sea. Also of note was a Shark, slowly swimming near the fish cages.