22-3
After long preparations, study and high expectations, the five of us (Jan Westhuis, Sjaak Lobs, Wim Harmsen, Wies van Onselen and Pim Stins) arrived to Southern Israel for the first time. During our bus trip from the airport to the hotel I could only find one bird along the road. Not a good start, I thought then…
Our first place to visit was the well known Ofira Park. The best birds there were: Richard's Pipit (2), Masked Shrike, Eastern Olivaceous Warbler and a Short-toed Lark just sitting on the path!


23-3
The next morning at North Beach produced, besides the usual species, a Brown Booby and 2 Oystercatchers (fairly rare bird here and very common in Holland!). Unfortunately, the IRBC was closed. The surroundings were good for waders and migrating raptors with 2 Booted Eagles.
At the km 20 area we saw our first Namaqua Dove, a Greater Sand Plover and the Lesser Flamingo. We continued to Yotvata were a group of Arabian Babblers gave very close views together with a Red Fox. The pools here are beautiful and have high potential for good birds. A group of 12 Dead Sea Sparrows was flying around. We only got one female sitting close by.
In the evening the drinking spot for Lichtenstein's Sandgrouse was successfully visited and on our way back to the hotel we flashed three Stone Curlews. What a day!

24-3
We got a tip about a very good place for Citrine Wagtails and Crakes for the next morning. Just after sunrise we were there together with 3 Swedish birders who already had found a Spotted Crake! Citrine Wagtail was easy with up to 5 individuals! This pool at km 19 also provided Little Crake (2), Baillons Crake(!), Desert Finches, Turtle Dove, Subalpine Warbler and hundreds of Short-toed Larks. A Barbary Falcon passed by.
At mount Yoash, a Greater Spotted Eagle was a good surprise! Together with thousands of Steppe Buzzards, an Egyptian Vulture and some Steppe Eagles, thanks to the experienced birdwatchers at this place.
From here we left to Kibbutz Lotan. A Cinereous Bunting had been ringed here and was still around, probably two! At the football field there was a very approachable Sociable Plover which gave wonderful views to the audience. The Cinereous Bunting was quickly found at the entrance among some Cretzschmar's Buntings. An incredibly beautiful bird. At the Saltpans at km 20 we had short but good views of two Great Black-headed Gulls.

25-3
We got up at five to be in time for the bird ringing at Lotan. It's always nice to see birds so close, especially those seldom-seen-closely birds. A Wryneck, a Quail, a Cinereous Bunting(!), a Ruppell's Warbler, an Isabelline Wheatear, and an Eastern Olivaceous Warbler found the nets. An Eastern Orphean Warbler was found in the area. Thanks again to the really kind and helpful English ringers.
This day we were on route to kibbutz Mashabei Sade. We stopped at a gas station to have some drinks. I thought one of us was joking when he said inattentive:" Look, there is your Cinereous Bunting again!" I paid the drinks and walked towards my friend. At that time I saw our second Cinereous Bunting for this day!
We asked the way and immediately found the Hume's Warbler which has been at the same place for some months. The second perfect stop at Mitzpe Ramon!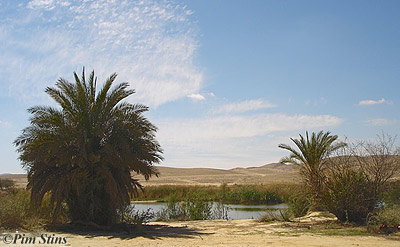 Yeruham reservoir
26-3
Ido Tsurim, the guide I had been sending emails with, was at the car park at five in the morning. He jumped into our car and we headed for Nizzana. At the well known spot we found a male Macqueen's Bustard and a Cream Colored Courser within 5 minutes! The Macqueen's was displaying. What a sight at this cold morning. The next stop, about one kilometer ahead, brought us another male. While scanning the area, a Male Pallid Harrier flew towards us and gave excellent views!
At the drinking spot for Sandgrouses we saw 11 Spotted, 4 Black-bellied and 9 Crowned Sandgrouses! A Short toed Eagle posed on a fence near by. A Long-legged Buzzard was seen from the car beside the road feeding on a Hedghog. The next moment a male Rock Thrush in fresh plumage sat on a rock beside the road. Just arrived and ready for sale!
In the beautiful gorge of Ein Avdat we found Scrub Warbler, Sand Partridge and a stunning nest with Bonelli's Eagles. Two young were seen pretty well. The birds had no problems with the hordes of noisy schoolchildren. Some Griffon Vultures sat on the edges. After Ein Avdat we searched the fields north of Sede Boqer, and found two Collared Pratincoles.
In the afternoon we drove to Neót Hakkikar, were we saw Glossy Ibis, White-breasted Kingfisher, Little Crake, Savi's Warbler and heard Clamorous Reed Warbler. Ido took us in the evening to the place for Nubian Nightjar. At about 18.20 hr. an individual appeared just in front of us! This made the end of an unforgettable day. After a terrific dinner specially made for us by a local cook we slept very well in a kind of Bedouin tent, just out of Neót Hakkikar.

sunset
27-4
First stop was at the fish pools of Neót Hakkikar. Not much new could be added. Along the road we stopped at a wadi were numerous Eastern Bonelli's Warbler were seen and heard. We drove up to Yeruham, where there is quite a large reservoir. There were more than 70 Little Grebes making their well known calls. Purple Swamp-hen breeds here. We found one! together with a Penduline Tit. We also located a male Semi-collared Flycatcher in the trees along the banks. A new bird for all of us!
After this great place we scanned the fields close to Revivim for Pin-tailed Sandgrouses. Non of them were found. There was too much activity around. We then said goodbye to Ido and thanked him for his outstanding guiding. We ended the day at North Beach with Black Storks, a dark morph Reef Egret, Great Black-headed Gull and a Greater Sandplover landing at the shore 9 meters in front of us.
28-4
some Bimaculated Larks hanged for a while around the cattle shed at km 19. We saw two of them. A highly wanted bird! At the same places there were still hundreds of Short-toed Larks around. During the observation of these larks a stunning Ortolan Bunting was found between them on the ground. A flock of 70+ Bee-eaters had just arrived and due to the strong northern wind stayed there for the whole day. The birds of prey had severe problems with this wind. They flew very low and we could easily see Osprey, Booted Eagle and even a Bonelli's Eagle!! Most of the Steppe-buzzards landed, tired, everywhere in the area. At km33 we searched for Desert Wheatear for which we had missed. We didn't see it at all…., but two of us got a glimpse of a Hoopoe Lark! This time I had no luck.
At the Saltpans we saw a Gull-billed Tern, a Grey Wagtail, a Wigeon, a Shelduck, a Spoonbill and a Red-necked Phalarope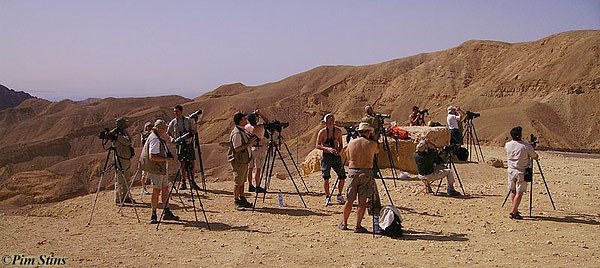 Watching raptors migration at Eilat Mountains

.

29-4
The last morning round provided one new bird: Water Pipit.
After six days of very intense birding we had to leave. I would have stayed for one more week in this amazing area. It was much better than expected.

Pim Stins,
Holland.