>> Birding Reports
---
Southern Israel, 04-05/May/07
Tomer Landsberger
Barak Granit and I spent the weekend of 4-5th May birding in southern Israel. The other birders who attended the Arava, namely Rony Livne, Lior Kislev, Yoav Perlman, Amir Ben Dov, Markus Craig, Avner Cohen and Marcel Holyoak, all took part in the cumulative effort.

May 4th:

Neot Smadar, Shizzafon, morning:

The orchards were alive with passerines, the dominant species being Blackcaps. Of special interest were a Red-breasted Flycatcher and a River Warbler in the Apricot orchard, an Upcher's Warbler in the eucalyptus near the artificial lake, 6 Barred Warblers, Garden Warblers, Thrush Nightingales, a Wood Warbler, a Little Bittern and a very low flying male Crested Honey Buzzard. In the sewage pools, there was 1 Citrine Wagtail.

Km 20 saltpans, noontime:

Best was a male Caspian Plover found earlier by Avner. Also there, a flock of 14 Red-necked Phalaropes and 13 Broad-billed Sandpipers.

North beach, afternoon:

2 Pomarine and some Arctic Skuas, 2 Sooty Shearwaters.

May 5th:

North beach, early morning:

3 Pomarine and at least 11 Arctic Skuas, 2 Sooty Shearwaters and a flock of 16 White-cheeked Terns, one of the largest flocks in record.

Eilat mts. late morning:

2 males and 2 females Crested Honey Buzzards, among thousands of European Honey Buzzards.

Km 20 saltpans, noontime:

very much like yesterday plus a Terek Sandpiper and an apathetic Black-winged Pratincole.

Bahad 1 Tamarisks grove, afternoon:

the place was surprisingly wet and flowering, considering the time of year, holding 3 River Warblers, 1 Red-breasted Flycatcher, 7 Golden Orioles, 1 Wood Warbler, many Garden Warblers and others. © All images are courtesy of

Rony Livne

.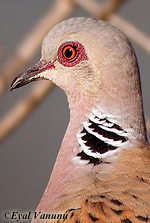 Turtle Dove
(Streptopelia turtur) Ma'agan Michael, Jun.04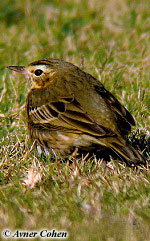 Olive-backed Pipit
(Anthus hodgsoni) Sde Boqer, Nov.05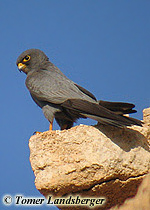 Sooty Falcon
(Falco concolor) Arava, Oct.05