On the Dec 29th, I traveled south to the Arava valley following a report by Noam Weiss of a juvenile White-Tailed Eagle at the K19 sewage pool. Wild White-tailed Eagles are rare in Israel, with 1-2 records per year. The majority of birds seen in the Hula valley and Golan heights are Dutch birds that were released as part of a re-introduction program.
The morning started at the K20 pools, where I searched for the Eagle. Around the pools I noticed a male Merlin, some ~300 Common Shelducks and the many other usual winterers in the pools (Flamingos, Pintails, Teals, Dunlins, etc…).
As I headed towards K19, I noticed a huge Raptor coming in from the Jordanian side towards the K19 pools - there was no question about the identity of this raptor, and soon I watched the 1st year White-tailed Eagle resting on the K19 pool area. I tried to get close to the bird, but it was scared away by a truck passing by and flew back to the Jordanian side where it landed next to a juvenile Imperial Eagle.
As I went outside the K19 area, I immediately noticed a 1st winter Daurian Shrike near the cowshed; a nice find to conclude this part of the Arava.
I headed back north to Yotvata's circular field, from where a Buff-bellied Pipit, my main target species, was reported.
I stopped at the center of the field and scanned the many Water Pipits that stood on the watering pipe hoping that at one point the Buff-bellied Pipit will show itself.
During the 2 hours I spend at the place, I saw a Pallid Harrier flying low over the field searching for pray, a 1st male Common Kestrel feeding on a White Wagtail, an adult Imperial Eagle resting on one of the surrounding trees and a beautiful male Siberian Stonechat.
After the long wait, I eventually had great views of 2 Buff-bellied Pipits. Although an annual winterer in the Arava, it was a lifer for me.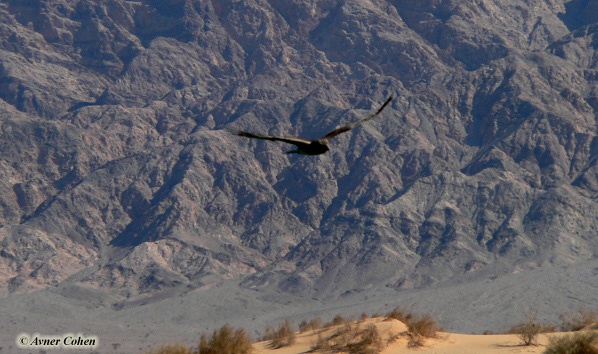 Pallid Harrier at Yotvata's circular field.

On my way out of the circular field, I went to the well known place for Arabian Warblers just south of Yotvata's gas station. I didn't see an Arabian Warbler but Instead I saw a 1st winter Cyprus Warbler, a good bird nonetheless.