>> Birding Reports
---
Southern Arava, 24/Mar/06
Tomer Landsberger
I spent most of the 24th at Eilat's north beach, waiting for something good to come by.
In the morning, Shai Agmon, Noam Weiss and I enjoyed splendid views of an adult Long-tailed Skua, rare in Israel, seen mostly in summer. Furthermore, about 5 Arctic Skuas were seen altogether.
Other then that, all the regular stuff were there – Striated Herons, Western Reef Heron, White-eyed Gulls, Sandwich and Caspian Terns, Greater Sandplovers etc…

The Brown Booby is now regularly fishing near the pier west to the north beach, only meters above the heads of the bathers. I took the below flight shot with a point & shoot camera, using no optical aides.

At noon time, Noam, Shai and I went looking for the Cinereous Buntings in Lotan. One approachable bird was feeding on the kibbutz's turf with Cretzschmar's and Ortolan Buntings.
Surprisingly, most of the Cinereous Buntings seen this spring in Israel are of the traditionally rarer form – semenowi.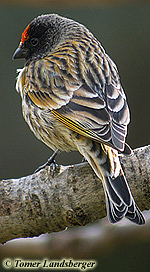 Red-fronted Serin
(Serinus pussilus) Rosh Pinna, Jan.06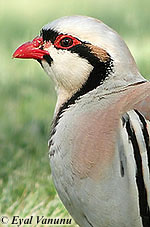 Chukar
(Alectoris chukar) Sde Boqer, Apr.04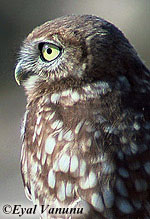 Little Owl
(Athene noctua) Negev, Jun.04