>> Birding Reports
---
Southern Arava - 1-2/Feb/2007
Avner Cohen
I was planning to spend the weekend at Eilat, and on the 1st of February, I started the (relatively) long drive south.
On my way there, I made a stopover at a known site for Arabian Warbler, my personal nemesis, at the Northern Arava. As I had already spent many hours at the Yotvata looking for it, I was not hoping for much, but it was only a matter of minutes before I was joyfully watching a male Arabian Warbler jumping in the Acacia trees.
I continued driving south, and after checking into the hotel, I met up with Noam Weiss to search for the Egyptian Nightjar he saw in one of the previous nights. We spent an hour driving through the fields, and saw nothing but a Stone-curlew, few Spur-winged Plovers and a Kentish Plover.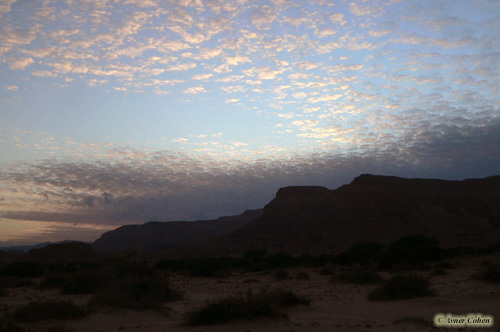 Eilat's mountains at dusk.
The following morning I was planning to search for the Olive-backed Pipit that was reported by Noam. I started the search in the palm grove where it was last seen, ant it wasn't long before I had excellent views of it, accompanied by 2 Tree Pipits. Other than that, the grove was quite empty, with only a few Stonechats and Black Redstarts.

I than moved on to a more southern palm grove, a place where Noam had previously seen 2 Buff-bellied Pipits in a flock of Water pipits. I managed to find the flock, and among the Water Pipits, I noticed the 2 Buff-bellied Pipits and a single Red-throated Pipit.

I than headed to the K19 sewage pool, where I met Marcel, a visiting birder from the USA.
We discussed a good place to see Striated Scops-owl and Marcel notified me of a Bonelli's Eagle on the northern bank of the pool.

I continued my way north to Yotavata's circular field, where I noticed the first sign of spring migration in the shape of dozens of Common and Pallid Swifts accompanied by ten or so House Martins, which were hunting above the field and the fresh compost heap.
The compost heaps seemed alive with many Skylarks, Crested Larks, Red-throated, Meadow, Water Pipits and White Wagtails.
On my way out I met Marcel again; he was able to catch up with the Striated Scops-owl and was lucky enough to also see at that place 2 Cyprus Warblers and a single female Sinai Rosefinch!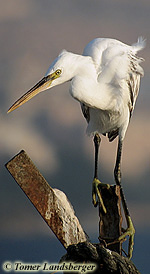 Western Reef Heron
(Egretta gularis) Eilat, Feb.05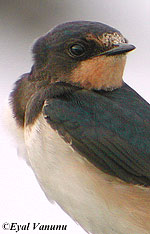 Barn Swallow
(Hirundo rustica) Ma'agan Michael, Jun.04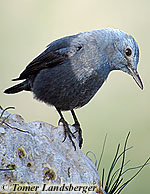 Blue Rock Thrush
(Monticola solitarius) Mt. Arbel, Feb.05