>> Birding Reports
---
Southern Arava, 01-03/DEC/05
Tomer Landsberger
On December 1st, Noam Weiss and I drove all night to Eilat and arrived at first light to the north beach. It was fairly quite there, with only some White-eyed and Black-headed Gulls around, so we went to the IBRCE Park.

In the big saltpan near the parking place we saw a single

Ruddy Shelduck

. Around the Tamarisks surrounding the bank was an

'ochruros' Black Redstart

, very rare in Israel, and a flock of

Dead Sea Sparrows

. On the nearby acacias were 15

Little Green Bee-eaters

.

We went on to Km 19 sewage pools which were packed with

Great Cormorants

and

Ducks

, mainly

Pintails

and

Shovelers

. In the northern saltpans we saw nothing unusual.

During the rest of the day we scanned nearly every date plantation in the southern Arava by foot, but it was hardly productive.

At afternoon we walked in Yotvata's circular field and flushed five

Richard's Pipits

and an

Oriental Skylark

.

Our last stop was at Ye'elim holiday village (behind Yotvata's parking lot), were Yellow-browed Warblers have been recorded almost annually. Surely enough, we immediately heard one when entering the park, but it was a long hour till we managed to get our bins on the skulking bird.

By that time, Rami Mizrachi had joined us and the bird finally showed itself. Rami then informed that in the morning he saw and photographed another

Yellow-browed Warbler

at 'Bahad 1' sewage, near Mitzpe Ramon.

On the next morning, Eilat's north beach was the same as before so Noam and I went to Wadi Shlomo (Eilat Mts.) while Rami continued north.

In Wadi Shlomo we saw two

Cyprus Warblers

. We continued on Uvda road, which goes through the mountains and ends at Shizzafon. We stopped in various green patches along the way and Near Mahane Sayarim, we had another

Cyprus Warbler

.

We reached Shizzafon at mid-day and entered Neot Semadar. The Kibbutz and the agricultural fields were also very low in passerines. A nice surprise though, was an adult male Goshawk hunting for Skylarks above the fields.

From there we went on to Lotan/Ketura area but saw nothing of note.

That evening, Rami saw a 1st winter Kittiwake, rare in Israel, off Eilat's north beach. He also counted the Cormorants in Km 19 sewage pools at about 3,500, a figure ten times higher then ever recorded in Eilat area before.

At the northern saltpans, the number of

Flamingos

exceeded 700.

On the morning of the 3rd, all three of us tried for the Kittiwake at the north beach. After about an hour, the Kittiwake appeared and even got very close to us at times, allowing for some photos to be taken.

It was very hot that day and we did not see anything out-of-the-ordinary during noontime.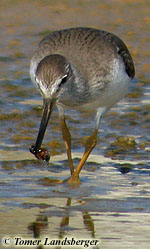 Terek Sandpiper
(Xenus cinereus) Ma'agan Michael, Jul.05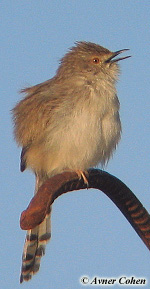 Graceful Prinia
(Prinia gracilis) Wadi Mikhmash, Feb.06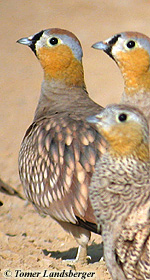 Crowned Sandgrouse
(Pterocles coronatus) Nizzana, Oct.05