>> Birding Reports
---
Northern Israel, 04/JAN/06
Tomer Landsberger
On the morning of January 4th, I met with Avner Cohen at Acre coast.

The rocks along the shore inhabit large numbers of

Gulls

- thousands of

Black-headed

, hundreds of

Armenian

, tens of

Caspian

,

Slender-billed

and several

Pallas's

.

The long staying

Knot

, the first to be recorded wintering in Israel, was also present accompanied by the local Waders -

Dunlins

,

Little Stints

,

Turnstones

, a

Sanderling

and a

Curlew

.

The powerfull easterly wind did not encourage us to stick around for much longer then an hour. Just before we left, 2

Yelkouan Shearwaters

, undeterred by the wind, flew south very close to the shore.

We continued towards Rosh Pinna area in the Galilee. We took a stroll in a Wadi just above the city, were Red-fronted Serins had been sighted recently.

The place was swarming with passerines, mainly

Chaffinchs

but also a few

Siskins

,

Bramblings

, tens of

Song Thrushes

, a single

Rock Sparrow

and a

Wren

.

After a long hour of waiting, I was rewarded with great views of 4 Red-fronted Serins. The Serins were perching on fig trees with the other seed-eaters for several minutes before disappearing.

Meanwhile, Avner was trying for the large flock of Wood Pigeons which winter in Tel-Kadesh area annually. He managed to see a few tens flying around, and had glimpse of an odd Fieldfare.

On our way back south we made a quick stopover at Gesher fishponds. Around the reeds in the small ponds we saw a Purple Heron, a Whiskered Tern, some Spoonbills and a couple of Reed Buntings.

Finally, in the fading light, we located the two

Greylag Geese

(around since November) sitting with

Grey Herons

in the middle of a large dried reservoir.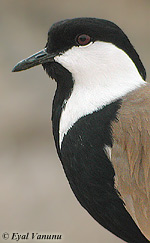 Spur-winged Lapwing
(Vanellus spinosus) Ma'agan Michael, Apr.06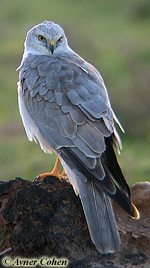 Pallid Harrier
(Circus macrourus) Western Negev, Feb.06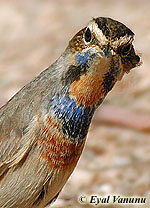 Bluethroat
(Luscinia svecica) Samar, Oct.05