>> Birding Reports
---
Negev, 27/Mar/06
Eyal Vanunu
On March 27th I drove south to the dunes areas of the Western Negev desert ('Holot Agur'). Migrant passerines are present at every green spot in the dunes – mainly Blackcaps and Lesser Whitethroats. Scanning the plateau ('beer Milka') I found a Cream-colored courser and a few Desert Wheatears.
I then continued to Sde-Boker campus. I was surprised to find relatively large numbers of Cretzschmar's Bunting virtually everywhere – 95 birds were present at the park alone (the total no. around that area is a few hundreds, at least 250-300 birds), undoubtfully the biggest 'wave' of this species that I ever saw at Sde Boker. Interestingly, at least in the park (where I counted the birds), no. of males and females was almost equal. Among the Cretzschmar's were 18 Ortolan Buntings and a single Cinereous Bunting. Also around about 10 Tree Pipits, 3 Wrynek and all the other typical birds for the area, such as Little Green Bee-eater and Desert Finch.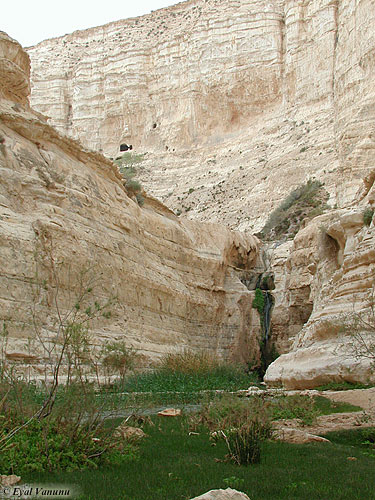 Ein Ovdat

The pair of Bonelli's Eagle at Ein Ovdat is doing well, providing excellent views as usual. The two young are about 6-7 weeks old now (probably hatched during the first week of February), both were active and fed by the female (first photo, 2nd showing the male). Other raptors around were a few Griffon and Egyptian Vultures, Long-legged Buzzard and some Black Kites.
Along the water stream, a few 'feldegg' Yellow Wagtail, Water Pipits, a Water Rail and Trumpeter Finches. 1-2 Crag Martin was also present at the canyon.

At Mashabby Sade (about 15km north to SB) no exceptional numbers of buntings – only single birds were seen. Most interesting birds were a Semi-collared flycatcher– my first for this season, and a male Ruppell's Warbler.
Thousands of White storks were migrating above the area (14:30), forming huge flocks – even non-birders people that were driving along road 40 stopped on the side of the road to watch this amazing phenomenon.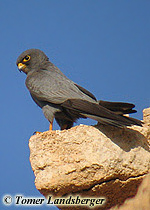 Sooty Falcon
(Falco concolor) Arava, Oct.05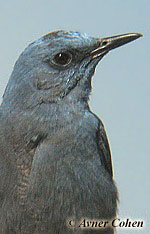 Blue Rock-Thrush
(Monticola solitarius) Mt. Arbel, Feb.06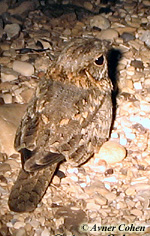 Nubian Nightjar
(Caprimulgus nubicus) Southern Dead-sea, Mar.06