>> Birding Reports
---
Mitzpe Ramon, 17/OCT/05
Avner Cohen
On the 17th of October, I traveled down to Mitzpe-Ramon in the Negev. The sewage belonging to one of the army bases in the area has long been a known stop-over for the many migrants along that route.
Being a small wooded area in the middle of the desert makes it easier to locate the birds.

I arrived at dawn on a search for Red-breasted Flycatchers. The place was teeming with birds - White and Yellow Wagtails, Willow Warblers, Bonelli's Warblers, Red-backed Shrikes and Redstarts from both the phoenicurus and samamisicus sub-species. Yoav Perlman and Gal Abdu were also birding in the area, and soon enough, a single Red-breasted Flycatcher was located. I enjoyed good views of the bird, and while waiting for it to settle down so that I could take some pictures, Yoav called and pointed on very tame Oriental Skylark, perching on a small bush .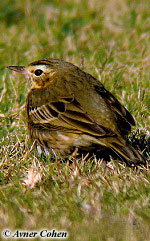 Olive-backed Pipit
(Anthus hodgsoni) Sde Boqer, Nov.05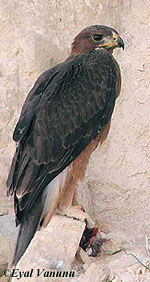 Bonelli's Eagle
(Hieraaetus fastiacus) Sde Boqer, Apr.04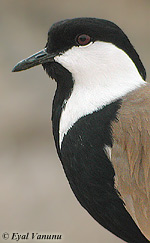 Spur-winged Lapwing
(Vanellus spinosus) Ma'agan Michael, Apr.06