>> Birding Reports
---
Mitzpe Ramon, 03/NOV/05
Ido Tsurim
Motivated by Jonathan Meirav's call from 2nd November for a Yellow-browed Warbler at the Officers' School Sewage, near Mitzpe Ramon, we (Ido Tsurim, Yoav Perlman, Arnon Tsairi) set up our mist nets early morning on the next day.The place was swarming with birds, especially Chiffchaffs and White Wagtails.
Indeed, the first round to the nets yielded our main target for the day in a fresh and bright plumage. The bird was ringed, photographed and released in the place, and was subsequently seen throughout the morning feeding at the edge of the small Tamarisk grove. Unlike our previous experience with this species, this individual was very quite and showed no aggression towards other birds.
All in all, we ringed a total of 66 birds during this short visit: White Wagtail 15, Bluethroat 2, Stonechat 1, Chiffchaff 43, Willow Warbler 3, YBW 1, Chaffinch 1.
Also around, 2 Pintails (that landed to feed on the wet grass), a Long-legged Buzzard, a male Sparrowhawk, 1-2 Water Rails, and loads of passerines. Among them were some Water and Red-throated Pipits, few Redstarts, Bluethroats, Desert Finches, Bramblings and loads of Chiffchaffs.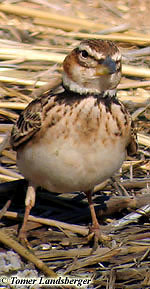 Bimaculated Lark
(Melanocorypha bimaculata) Arava valley, Mar.05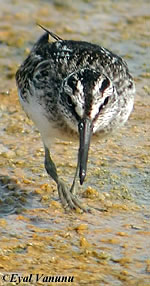 Broad-billed Sandpiper
(Limicola falcinellus) Ma'agan Michael, Sep.04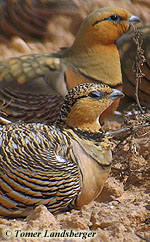 Pin-tailed Sandgrouse
(Pterocles alchata) Western Negev, Mar.06