>> Birding Reports
---
Israel, 10-14/Jan/07
Noah Gaines
This winter, I endeavored to see as many of Israelís wintering species as I could in 5 days. The pace was a bit hectic at times and I would definitely allot more time for this small but ecologically diverse country. The birds were first rate, in terms of both quantity and quality. 175 species were seen. Seven species of Eagle, Marbled Teal, White-headed Duck, Sinai Rosefinch, 25,000 Common Crane, and 5,000 Black Kites are only some of the highlights.

The success of the trip was largely due to my excellent guide Asaf Mayrose who was able to produce many hard to find species. He has a detailed knowledge of the birds, their vocalizations, habits, field marks, and roosts. His connections with people at most every area we visited guaranteed that we had current information. Israelis that I met during the trip were always helpful and I never felt threatened or endangered.

I used both the northern and southern guides to birding hotspots in Israel to prepare for the trip and found them to be very accurate. The Birds of Israel has excellent range and distribution maps and gives detailed accounts for each season. Sadly, this book was much to heavy to bring along. Although I brought Birds of the Middle East, I found Birds of Europe to be a much better field guide and used it almost exclusively throughout the trip. If any questions arise, feel free to email me (skater_ako1 AT hotmail.com) or Asaf Mayrose (iocasaf AT netvision.net.il or a_mayrose AT hotmail.com). ITENERARY

1/10/07

A windy morning at Magan Michael started the trip. This is an area with seemingly endless fish-ponds and a very accessible beach with many gull flocks and waders throughout. Slender-billed Gull, and Great Black Headed Gull were present in small numbers. Thirty Spoonbill were a nice sight. From the beach I had decent scope views of Greater Sand-Plover.

At a reservoir in the Izrael Valley, many White-headed Duck were seen. Greater-spotted Eagles were common here and throughout the Hula Valley.

In the Hula Valley we visited several fish ponds following advice from one of Asafís friends. Here we found a staggering 51 Marbled Teal and all three Kingfishers (Pied, White-breasted, and European). Across the street at a very well vegetated and very productive sewage pond, a cooperative Citrine Wagtail posed. Good views were eventually had of four Jack Snipe.

The day ended at Hula Lake on the Hula Nature Preserve where 20-25 thousand Common Cranes flew in, partially silhouetted by a magnificent sunset. Simply amazing. A Lesser-spotted Eagle and a Greater-spotted Eagle were perched closely for a nice comparison.

1/11/07

Early morning found us at a banding/ringing operation at a Fish Pond in the Hula Valley. Zitting Cisticolas and a Clamorous Reed Warbler were highlights.

The next stop was Gamla Nature Preserve. A steep gorge in the Golan Heights that is famous for its close views of nesting Griffin Vultures. The birds were present in good numbers and were often seen from extremely close ranges as they followed the ridges of the gorge. Other new birds seen at Gamla, were Bonelliís Eagle, Blue Rock Thrush, and Syrian Woodpecker. This is a site that I highly recommend for both its serene beauty and excellent birds.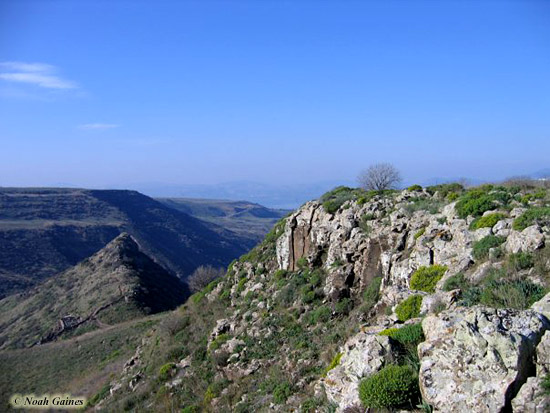 Gamla nature reserve, Golan heights.
The next stop produced the biggest surprise of the trip. Near Koah Junction in the hills west of the Hula Valley, we made a brief detour to check on a Long-eared Owl roost (several were present). A juvenile Imperial Eagle and a Greater Spotted Eagle were soaring high above on a thermal and several hundred Wood Pigeons were present in large flocks. However, on the way back down into the Hula Valley, Asaf spotted an adult White-tailed Eagle riding a thermal very close to the ground with a Greater-spotted Eagle for size comparison.
A quick stop at the Kinneret (Sea of Galilee) produced Pygmy Cormorant and Whiskered Tern.
The day ended with unbelievable views of Tiberius and the Kinneret from the Arbel Lookout. Here we missed Wallcreeper but still enjoyed nice birds such as a single Little Swift and many Rock Sparrows. An initially small flock circled the cliffs gathering in number to about 150. Eventually, they all settled down to roost together.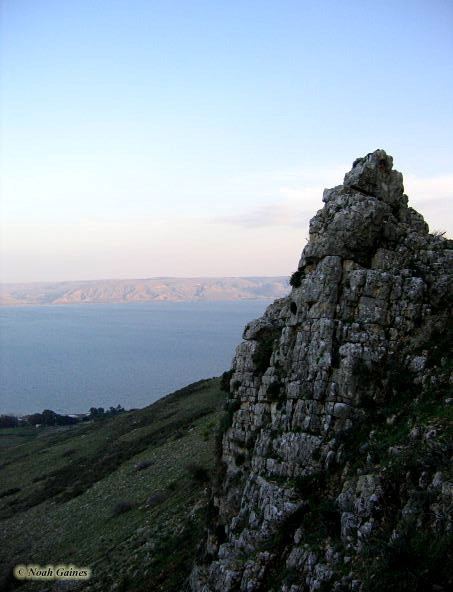 Arbel cliff, galilee.
1/12/07
We reached Eilatís North beach by driving the length of the country in the night (we were able to manage a few hours sleep). The first birds seen as we stepped out of the car were three White-eyed Gulls which stuck around for a while. Herons were plentiful and here we added Western Reef-Heron and Green-backed Heron.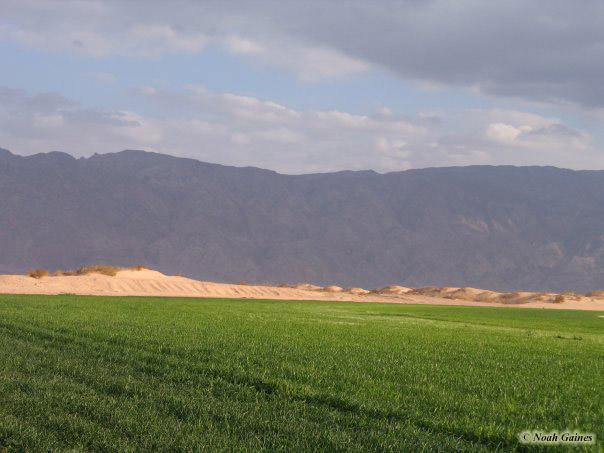 Yotvata fields.
Near the ringing station we had the first of many Greater Flamingos and a sharp breeding plumage Kentish Plover. After negotiating a particularly nasty dirt road, we arrived a spring in the mountains north of Eilat, where we waited for Sinai Rosefinch. Two females and a brilliant male eventually flew in and fearlessly approached us, hopping right next to the car. Hooded Wheatear and White-crowned Black-Wheater were present. At the km 20 salt-pans about 300 Greater Flamngo were present. In this area we also had flyovers of two juvenile Steppe Eagles and a juvenile Barbary Falcon.
Near some agricultural fields further north, a Tawny Pipit and the first of many Little-green Bee-Eaters were found.
In the Arava Desert right at the border with Jordan calling Desert Warblers were seen well. Several Desert Wheatears were found here.
The day ended at km 76 with several cooperative Isabelline Wheatears.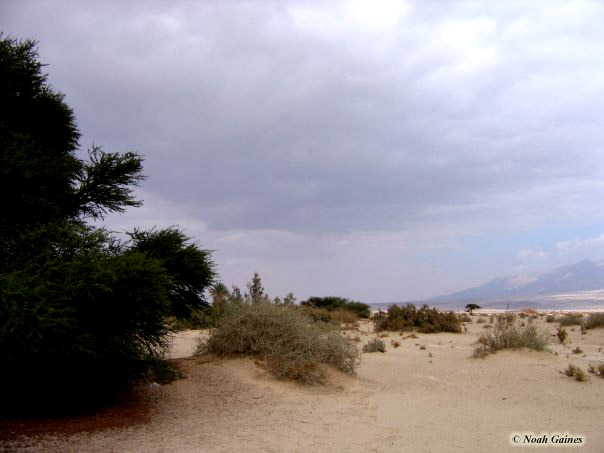 Southern Arava valley.
1/13/07
Today started in near Nizzana in the Negev Desert. Early morning birds included A faraway displaying Houbara Bustard, a flyby of calling Pin-tailed Sandgrouse, and two Little Owl. Nearby sewage ponds offered excellent looks at Black-bellied Sandgrouse, several Spectacled Warbler, and our only Spotted Redshank of the trip.
Along the road out, we stopped and found two female Houbura Bustards and a close displaying male! He danced for about 15 minutes.
Urim was perhaps the most exciting site of the trip. This agricultural area holds huge numbers of raptors and wintering plovers. Many Imperial Eagles were seen here along with five Peregrine Falcons and five Merlin. A Lanner and Saker had a thrilling chase. Large flocks were constantly in the air. Most consisted of Starlings, but a flock of plovers quickly caught our eye. We waited for them to land and drove over to find ~400 European Golden-Plover, 8 Sociable Plover, and a bunch of Northern Lapwing!
We ended the day watching clouds of Black Kites descend to roost that numbered at least 5,000 birds. Stone Curlews were seen and heard on the way out.
1/14/07
My last day was spent near En Gedi and in the Judean Desert. During an early morning hike to a drinking spot about 10 more Sinai Rosefinch were detected.
At an agricultural field further north along the Dead Sea a last ditch effort produced a nice flock of about 15 photogenic Namaqua Dove.
The afternoon was spent driving dirt roads in the Judean Desert to a beautiful gorge where Griffon Vultures were nesting. Along the way the car spooked a subadult Golden Eagle from the ground right next to the road. I watched Pallid Swifts and Pale Crag Martins as the sun set on my final day in Israel.
SPECIES LIST
Here is the trip list. Birds followed with the initials indicate that Asaf detected the bird (often by call or at a great distance) but that the bird was not identifiable by me.
1. Little Grebe. Common throughout at reservoirs, fish and sewage ponds.
2. Black-necked Grebe. One seen at the Kinneret.
3. Great-crested Grebe. (A.M.) One seen at the Kinneret.
4. White Pelican. Uncommon throughout the Hula Valley.
5. Great Cormorant. Abundant along the northern coast and in the Hula Valley.
6. Pygmy Cormorant. ~20 seen from the shores of the Kinneret near Tiberius.
7. Black-crowned Night-Heron. One at Magan Michael.
8. Green-backed Heron. One at the Eilatís North Beach.
9. Cattle Egret. Handfull in the Golan Heights.
10.Little Egret. Common throughout
11. Western Reef-Heron. 5 seen near Eilat, all white
12. Great Egret. Uncommon throughout.
13. Grey Heron. Common throughout.
14. White Stork. Uncommon in the Hula Valley and at Magan Michael.
15. Black Stork. Uncommon in the Hula Valley and at Magan Michael.
16. Spoonbill. 30 seen at Magan Michael and one flyover in the Hula.
17. Greater Flamingo. 300 seen at km 20 ponds near Eilat.
18. Common Shelduck. Uncommon at reservoirs throughout.
19. Mallard. Common at reservoirs thoughout. Abundant at Lake Hula.
20. Gadwall. Uncommon at reservoirs throughout.
21. Northern Pintail. Uncommon at reservoirs throughout.
22. Northern Shoveler. Abundant on ponds throughout.
23. Eurasian Wigeon. Small numbers seen at reservoirs throughout and Lake Hula.
24. Marbled Teal. 51 seen at fish ponds in the Hula Valley.
25. Common Teal. Common at reservoirs throughout.
26. Common Pochard. Five seen in a reservoir in the Izrael Valley.
27. White-headed Duck. 250 at a reservoir in the Izrael Valley.
28. Griffon Vulture. 20 seen at Gamla, 3 north of Ein Gedi, 10 in the Judean Desert.
29. White-tailed Eagle. One adult riding a thermal with a Greater Spotted Eagle in the hills west of the Hula Valley.
30. Osprey. One at a fish pond in the Hula Valley.
31. Golden Eagle. One subadult flushed in the Judean Desert.
32. Imperial Eagle. One juvenile above the hills west of the Hula Valley. Five adults around Urim (western Negev)
33. Lesser Spotted Eagle. One perched near Lake Hula.
34. Greater Spotted Eagle. Uncommon throughout the Hula Valley. One seen near Eilat.
35. Steppe Eagle. Two juveniles together at km 20 near Eilat.
36. Bonelliís Eagle. Two adults nesting at Gamla. One adult in Judean Desert.
37. Black Kite. Abundant in the Hula Valley and Urim. Near Urim we visited a roost of ~5,000.
38. Marsh Harrier. Uncommon throughout near ponds, marshes, or agriculture.
39. Hen Harrier. Uncommon throughout near ponds, marshes, or agriculture.
40. Pallid Harrier. (A.M) One silhouetted near Urim.
41. Long-legged Buzzard Uncommon in the Hula Valley and Urim.
42. Common Buzzard Common
43. Sparrowhawk Uncommon
44. Common Kestrel Common
45. Peregrine Falcon Six seen near Urim
46. Barbary Falcon One flyover at km 19 near Eilat
47. Merlin Five near Urim. One at Hula Lake. One near Yahel (central Arava Valley)
48. Saker Falcon One juvenile near Urim
49. Laner Falcon Two juvenile near Urim
50. Chukar Common
51. Sand Partridge Uncommon in the south
52. Common Quail One flushed at Gamla
53. Water Rail Two in the Hula Valley
54. Common Moorhen Uncommon
55. Eurasian Coot Abundant
56. Common Crane 25,000 near Lake Hula. 25 in Negev.
57. Houbara Bustard Six individuals total. Two displaying males near Nizzana. One in Urim.
58. Pied Avocet Uncommon in Hula Valley and in Km 20 salt-pans.
59. Black-winged Stilt Common
60. Stone Curlew Two seen and several more heard near Urim
61. Common Ringed Plover Common at Magan Michael, Hula, Eilat.
62. Kentish Plover Uncommon at Magan Michael one breeding adult at Eilat.
63. Greater Sand-Plover Two on rocks seen from the beach near Magan Michael.
64. Gray Plover Five seen from beach near Magan Michael
65. European Golden-Plover Massive flock of 400 and a smaller one of 25 at near Urim.
66. Northern Lapwing Common throughout
67. Spur-winged Plover Common to abundant throughout
68. Sociable Plover Eight present in the massive Golden-Plover/Lapwing flock at Urim.
69. Dunlin Uncommon near water
70. Little Stint Uncommon near water
71. Green Sandpiper Uncommon in the Hula
72. Common Sandpiper One in the Hula
73. Common Redshank Common
74. Spotted Redshank One present at sewage ponds in the western Negev
75. Marsh Sandpiper Uncommon
76. Black-tailed Godwit Four at Lake Hula
77. Common Snipe Uncommon in the Hula
78. Jack Snipe Four at a sewage pond in the Hula
79. Ruff 30 at Lake Hula. 15 at km 20.
80. Black-headed Gull Abundant
81. Slender-billed Gull Three seen near Magan Michael
82. Armenian Gull Common at Magan Michael and the Hula
83. Yellow-legged Gull 10 at Magan Michael (michahellis and cachinnans)
84. Steppe Gull One at Magan Michael
85. Lesser Black-backed Gull Three at Magan Michael
86. Great Black-headed Gull Five at Magan Michael
87. White-eyed Gull Three at Eilat North Beach
88. Sandwich Tern One at Magan Michael
89. Whiskered Tern Eight at the Kinneret
90. Black-bellied Sandgrouse Five at Negev Sewage Ponds
91. Pin-tailed Sandgrouse Fifteen in flight and calling near Nizzana
92. Spotted Sandgrouse 80 Foraging in a dry agricultural field in Negev
93. Rock Pigeon Abundant
94. Stock Dove (A.M.) 120 at Urim
95. Wood Pigeon 300 in large flocks west of the Hula
96. Eurasian Collared-Dove Abundant
97. Laughing Dove Abundant near civilization
98. Namaqua Dove 15 in an agricultural field north of Dead Sea
99. Long-eared Owl Five at a roost west of the Hula
100. Barn Owl Several at dusk on the Hula Preserve
101. Little Owl Two near Nizzana
102. Pallid Swift Ten in a gorge in the Judean Desert
103. Little Swift One briefly seen on Arbel cliffs near Tiberius.
104. Hoopoe Uncommon
105. Common Kingfisher Four seen in the Hula
106. White-throated Kingfisher Common in the Hula
107. Pied Kingfisher Common in Hula and Magan Michael
108. Little-green Bee-eater Uncommon in the south
109. Rose-ringed Parakeet Uncommon near towns
110. Syrian Woodpecker One at Gamla, one in hills west of the Hula
111. Skylark Abundant
112. Crested Lark Abundant
113. Desert Lark Common in the south
114. Crag Martin 25 at lookout near Tiberius. One with Pale Crag Martins in the Judean Desert.
115. Pale Crag Martin Quite common in the south
116. Barn Swallow Uncommon in the north
117. Tawny Pipit One cooperative bird in an alfalfa field north of Eilat
118. Water Pipit Uncommon throughout
119. Meadow Pipit Uncommon in the north
120. Red-throated Pipit Common
121. White Wagtail Abundant
122. Citrine Wagtail One at the good sewage in the Hula
123. Grey Wagtail (A.M.) Uncommon in Hula but I never could get a decent look.
124. Wren One at Tiberius lookout
125. Yellow-vented Bulbul Abundant
126. European Robin Uncommon
127. Bluethroat Uncommon
128. Black Redstart Common
129. Blackstart Common in the south
130. Isabelline Wheatear Common north of Eilat and in Negev and Urim
131. Desert Wheatear A few seen near km 20, yotvata, and km76
132. Finchs Wheatear Uncommon in south
133. Mourning Wheatear Uncommon in south
134. Hooded Wheater Uncommon in mountains north of Eilat
135. White-crowned Wheatear Common in south
136. Common Stonechat Abundant
137. Blue Rock Thrush One at Gamla, one at Tiberius lookout.
138. Song Thrush (A.M.) Heard west of Hula
139. Common Blackbird Common in the north
140. Sardinian Warbler Common
141. Spectacled Warbler 10 near Nizzana
142. Desert Warbler One at km 20, one at km 76, one near Nizzana
143. Scrub Warbler Uncommon in the south
144. Graceful Prinia Common in the south
145. Zitting Cisticola Five seen at fish pond in the Hula
146. Cettiís Warbler Common in north
147. Clamorous Reed Warbler One banded in the Hula
148. Chiffchaff Common
149. Great Tit Uncommon in north
150. Southern Grey Shrike One in Gamla, uncommon near Nizzana.
151. Palestine Sunbird Common
152. Arabian Babbler Uncommon in south. Always in groups of 5-10 with a lookout posted.
153. Jay Common in north near civilization
154. Jackdaw Several large flocks of about 100 in the Hula
155. Rook 100 with Jackdaws in Hula
156. Hooded Crow Abundant
157. Brown-necked Raven Common in the south
158. Fan-tailed Raven Locally common near Massada and En Gedi
159. Tristramís Grackle Common in south
160. Common Starling Abundant in Urim
161. House Sparrow Abundant
162. Spanish Sparrow Abundant in the south
163. Rock Sparrow 150 present at Tiberius lookout
164. Indian Silverbill Uncommon north of Eilat and north of En Gedi
165. Common Chaffinch Common in the north
166. Brambling Three seen in hills west of Hula
167. Linnet Uncommon throughout
168. European Goldfinch Uncommon
169. Serin Uncommon in the north
170. Hawfinch 10 west of the Hula
171. Sinai Rosefinch Three in mountains north of Eilat (one male). Ten at a drinking spot north of En Gedi
172. Trumpeter Finch (A.M.) heard in Judean Desert
173. Desert Finch (A.M.) heard near En Gedi
174. Yellowhammer Three west of the Hula
175. Corn Bunting Abundant
Mammal List
1. Rock Hyrax 20 at Arbel cliffs.
2. Fat Sand Rat 5 near Nizzana
3. Golden Spiny Mouse 2 at drinking spot north of En Gedi
4. Coypu Several near Lake Hula
5. Mountain Gazelle Several flocks seen in the north
6. Dorca's Gazelle 3 seen in the morning near Nizzana
7. Nubian Ibex Uncommon in the south
8. Wild Boar 5 seen at sunset on the shore of Lake Hula
9. Jungle Cat 2 at dusk on the Hula Nature Preserve
10. Blanfordís Fox One seen at dusk in the Judean Desert. Amazing tail!
11. Red Fox Fairly common in the south
12. Golden Jackal Common in Hula Valley.
13. Wolf One seen at noon near Revivim. Two near En Gedi at dusk
14. Eurasian Badger One roadkill in the Hula Valley.
15. Egyptian Mongoose Common in the north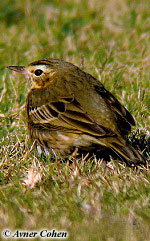 Olive-backed Pipit
(Anthus hodgsoni) Sde Boqer, Nov.05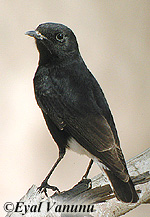 White-crowned Wheatear
(Oenanthe leucopyga) Mitzpe Ramon, Nov.05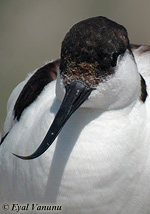 Pied Avocet
(Recurvirostra avosetta) Ma'agan Michael, Apr.06