>> Birding Reports
---
Bonelli's Eagle (Hieraaetus fasciatus) breeding in the Dead Sea
Hadoram Shirihai
I had some amazing encounter with the breeding pair of Hieraaetus fasciatus at the Dead Sea area: at about 10.00 the male preyed on a Rock Dove, just below my position, and as usual it passed the prey to the female that fed the two 4-5 weeks old chicks. Just after that there was a nice low mix passage of Aquila nipalensis & pomarina just over my head, and when for 20 minutes both the male and the female were attacking the migratory eagles (9 attacks!). Unfortunately all the arial attacks were some 500 m away from my location, so the images are very small and not so sharp, but here attached for you three images of one attack on nipalensis. It is amazing that this is the first year after ~10 year of infertile breeding attempts of this pair. I am shocked to know that only 10 fasciatus pairs or so now left to breed in Israel.



Three images (top to bottom) showing sequence of aerial attack (territorial defends) by the local Hieraaetus fasciatus against the migratory Aquila nipalensis.





The female Hieraaetus fasciatus in flight above the nest site.




The female Hieraaetus fasciatus feeding the 4-5 weeks old chicks at the nest.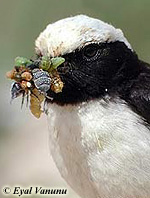 Mourning Wheatear
(Oenanthe lugens) Sde-boqer, Jul.04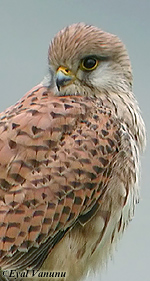 Common Kestrel
(Falco tinnunculus) Hula valley, Feb.05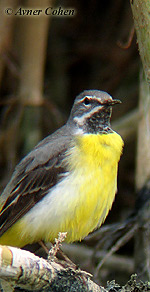 Gray Wagtail
(Motacilla cinerea)) Yotvata, May.06