>> Birding Reports
---
Autumn Migration sights, Sep-06
Avner Cohen
In mid September, I spent a day birding at Bet Shean valley. By this time of Autumn, an abundant of migrants are already present in the valley, and it's virtually impossible to look at the sky without either a Raptor or a Stork blocking your view.
I drove through the turf fields of Kibbutz Kfar-Ruppin, where tens of Common Snipes and hundreds of Yellow Wagtails where feeding, along with singles of Skylarks, Short-toed Larks and Collared Pratincole. Above the fields, a Peregrine Falcon was mobbing a lone Long-legged buzzard, quite a sight.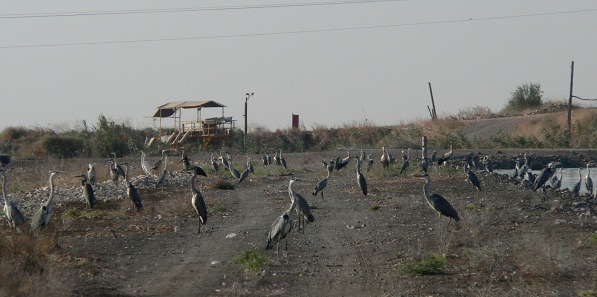 Gray Herons at rest.

I continued to the Fish pools of the Kibbutz, where I saw a few houndred Gray Herons resting together with White and Black Storks. At the same pool, a single juvenile Greater Flamingo, an uncommon migrant, was filtering in the shallow mudpools, and a ringed Osprey was perching on a nearby pole.
Three days later I was informed of a cotton field where Red-footed Falcons are hunting. Eagered to take photos of this small and elegant Falcon, I traveled again to that area and was greatly rewarded. The field held about 50 falcons, a single juvenile Montagu's Harrier and about ten Rollers.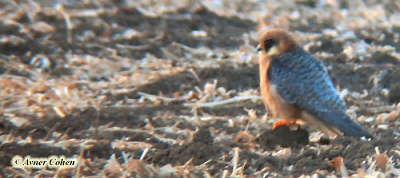 Female Red-footed Falcon (Falco vespertinus).

The interaction between the local Kestrels and the Red-footed Falcons was a joy to watch, and I was happy with few of the images I managed to capture despite the overcastting sky.
Below is a gallery of several of the Images I took in these two trips: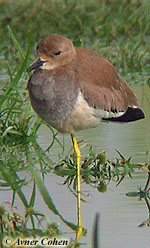 White-tailed Lapwing
(Vanellus leucurus) Hefer valley, Oct.05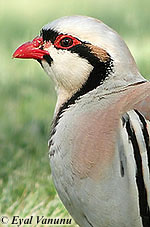 Chukar
(Alectoris chukar) Sde Boqer, Apr.04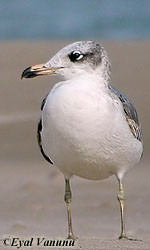 Pallass Gull
(Larus ichthyaetus)Ma'agan Michael, Jan.06