>> Birding Reports
---
Arava and Shizzafon, 07/Nov/06
Tomer Landsberger
I spent November 7th birding in the southern Arava and Shizzafon with Rony Livne and Barak Granit.
Overall, the area was quite desolate. A nice find though was a 1st winter male Pied Wheatear at Neot Smadar's sewage pools, which posed for us on a sand mound till it was chased away by a Hooded Wheatear.

Also worth noting were:
Greater Flamingo - out of the 500 which were present in km 20 pools, we managed to find 1 with a metal ring, probably from Turkey.
Curlew - 1 at Elifaz's sewage pools.
Richard's Pipit - 1 in Yotvata's fields.
Black-necked Grebe - 3 at Km20 pools, an unusual location for this species.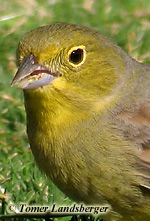 Cinereous Bunting
(Emberiza cineracea) Lotan, Mar.06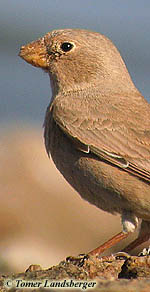 Trumpeter Finch
(Bucanetes githagineus) Eilat area, Dec.05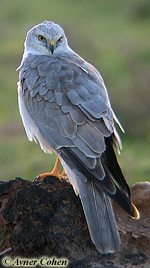 Pallid Harrier
(Circus macrourus) Western Negev, Feb.06