During September and first half October Peter Kinsella & Lee Gregory from the UK and myself participated in the annual count of the soaring birds migration survey in the northern valleys conducted by the IOC.
Once the survey was over the three of us went to refresh our tired spirits in the tranquility of desert birding in the 'brown & peacful' southern Israel.
Although we started our trip only on the 14th October at 04:30 am, two days before we went to one of the wadis in Jehudia desert to look for Hume's Owls.
It was indeed a magical evening - at dusk, a pair of Barbary Falcons soar above us along the cliffs, sometimes calling loud, at that time I spotted a flock of common cranes which migrated at an amazing altitude and just at dark a group of 100 or so Black Storks arrived from no where, passed us to the south only to return to the Wadi for a night roost on the massive cliffs above.
When the owls started calling we spotted two eyes starring at us quite near by, Although we thought at first glance that we had found one of the owls it appeared to be actually a small fox with massive black-edged tail - a Blandford's Fox (also known as: Afgan Fox) - a rare and unknown predator of the desert cliffs. Few moments later one of the owls came close and showed itself very well but it was the fox who stole the show.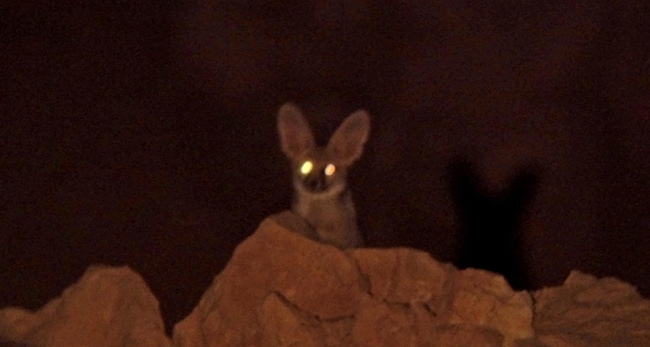 Blandford's Fox, Jehudia Desert, 11-Oct-2008
14th October - Dead Sea Region

At sunrise we arrived to the northern Dead Sea and after short break with nothing notable at the date plantation of Kibutz Kalya we decided to head on to Wadi Salvadora - after a short climb we spotted an adult Golden Eagle which was perched on the 500 meters high cliff-top. It was am impressive start. Shortly afterwards we arrived to the spring where we noticed 2-3 Sinai Rosefinchs and similar number of Mountain Buntings. While sitting quietly not far from the spring a massive bull Nubian Ibex came to satiate his thirst.
At the spring we spend another relaxed hour and continued to Ein-gedi for a short hike and splendid splash in Wadi David pools.
As always there were many Nubian Ibex and Rock Hyrex around, accompanied by Tritram's Grackles, Fan-Tailed Ravens and Little-green Bee-eaters and Blackstarts.
A flock of 20 Common Cranes soared and called above and a Grey Wagtail was seen along the stream. Indeed a very easy-going refreshment.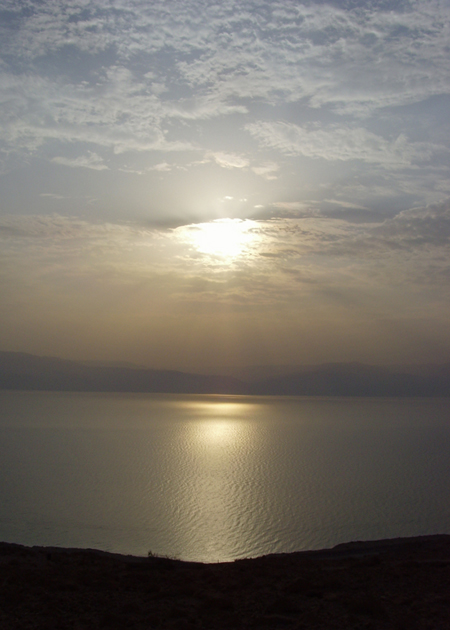 The Dead sea, as seen from Wadi Salvadora, 14-Oct-2008

We continued from there to Nahal Mishmar to eat a late breakfast. Few Griffons sored along the cliffs for a long time together with 2 Barbary Falcons, a 100 Common Cranes appeared out of no-where and Peter located an adult female Daurian shrike just near the place we sat.

From there we headed on towards the Arava Junction just south of the Dead Sea to watch Sooty Falcons. Very easily we located three grown fledglings which were standing together on a rock shelf and later on one of the adults came near.
That parent flew above us in very fast and determined wing-bits only to come back shortly afterwards with a Swift in it's talons which it eat alone and a way from the hungry young.
Since time was running fast we drove on to Sheizaf reserve and after some search we found the famous pair of Arabian warblers there. We ended this fantastic day in Neot Hakikar where successfully we had two Nubian Nightjars although only rather short views.
At night we slept in Hazeva Field school. So tired we were that we fall a sleep as soon as we got to put our heads on the pillows, skipping dinner with no obvious hunger.

15th October - Southern Arava

Again driving really early we arrived to Yahel sewage ponds where we had a Squaco Heron and a passerine mix including Bluethroat, Northern Wheatear, Black-eared Wheatear, 5 Red-backed shrikes, Whitethroat and some Willow warblers while Peter had a short glimpse of probably another Daurian Shrike.
Two Marsh Harriers migrated south and a Barabary Falcon passed us by swiftly, heading towards its breakfast. From there we continued To Kibutz Ketura and its adjacent sewage pond were we had our breakfast and apart from that 3 Namaqua Doves (includes 2 juv and a male) Purple Heron, 11 Sand Partridges, Some Redstarts, Spotted flycatchers, Bluthroats, Red-backed Shrikes and not much else.

Our Next Stop at late morning was Yotvata circular field were birding started to improve a bit with a nice Cream-colored Courser, 3 Desert Wheatears and 40 Short-toed Larks.
At the near-by sewage we had 5 Whiskered Terns, nice juv Collard Pratincole, some waders and Red-throated Pipits. From there we had on to Samar's date Plantation when Lee and myself separately heard an Olive-backed Pipit calling.
Thorough search and Peter and Lee Located the bird on the ground - a fantastic bright individual which gave a Siberian aroma to the day.
A Smyrna Kingfisher had a lizard for launch.
Other birds in the plantations included Garden Warbler, 7 Tree Pipits, 10 Spotted Flycatchers, 2 Redstarts, Purple Heron and a male Little Bittern.
At the turfs the good birding line continued with our first Red-breasted Flycatcher calling and showing in the tamarisk trees. A familiar calls from Kfar Rupin revealed 4 Blue-cheeked Bee-eaters - a very late records of those (birds disappearing from Kfar Rupin a month earlier). Other birds at the turfs included 4 Black-eared Wheatears, 30 Red-throated Pipits, some Winchats, 2 Spparowhawks and a flock of 200 Common Cranes which passed above. The afternoon was spent in Eilot Date plantation where we had a late female Golden Oriole, a Marsh Warbler. 3 Masked Shrikes and the similar species which were seen before. A Richard's Pipit was heard calling at K.19 and there were reasonable number of waders at K.20 with some White-winged Black Terns and a one Whiskered.
The North Beach was quite empty - typical for the autumn but there were still 25 White-eyed Gulls and a Sandwich Tern.
We slept the night ouside near Wadi Ketura when before first light appeared some howling wolfs added a magical shade to the ending night.

16th October - Neot Smadar and Mitzpe Ramon

We started the morning at the sewage of Neot Smadar where we had a single Mountain Bunting, Mourning Wheatear, Grey Wagtail, some Bluethroats, Red-backed Shrikes and of course a hungry Barabary Falcon.
In the kibutz orchards we had another 1st winter Daurian Shrike, 40 or so Red-backed Shrikes, Thrush Nightingale, some Masked Shrikes and Lee and I heard independently a single call of Yellow-browed Warbler though unfortunately the bird was not located. As we drove north on route 40 we stopped at Hameishar where we had a flock of 21 Spotted Sandgrouse by the road. Before noon we approached the Tamarisk grove near the officer school at Mitzpe Ramon which is known as 'Bahad 1'.
From the car we could hear the rattle call of a Red-breasted Flycatcher and very soon I located a Yellow-browed Warbler which this time gave superb views. All together we had 3 RBflys (with additional one at Mitzpe Ramon sewage) some spotted Flys and Redstarts, a Savi's Warbler, 1 Water Rail, a Desert Finch, and Gray Wagtail, Tree Pipits and 2 abietanus Chiffhafs. We ended the day early as we were exhausted and reached Har Hanegev field school where we spent the very cold night.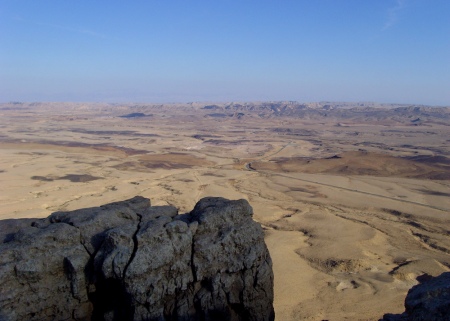 The unique landscape of the Ramon Crater, 17-Oct-2008
17th October - Nizana and Urim

Again we started driving at half past four in the morning heading towards Nizana. We arrived there at sunrise and quite quickly we located 2 Mcqueen's Bustard which were flying short distance and gave a gigantic impression ( I guess the tiredness didn't help either). In the Area of the Bustards we had some 20 Lesser-short Toed Larks, about 100 Greater Short-toed Larks, 10 Desert Larks, a southern Grey Shrike of the ssp elegance, 3 Desert Wheatear, 2 males Spectacled Warblers and a Desert hare.
Short in time we had on towards Kmehin pools to watch the Sandgrous drinking gathering where we had some 350 Spotted Sandgrouse and some 60 Black-bellied Sandgrouses but unfortunately no Crowned showed up. At the same place we had nice collection of birds included Pallid harrier male, Hen Harrier male, Red-necked Phalarope, a male Namaqua Dove, Great Reed Warbler, a Red-rumped Swallow, some waders, and hundreads of ducks mainly Teals and Shovelers.
We had our breakfast at Be'erotayyim Park where we had another surprise - a 1st winter male Black Redstart of the ssp phoenicuroides which is a very rare winter visitor with only handful of records. The afternoon was spent at Urim. Although the famous pilons area where quite devoted of birds as it was too early in the season, on the low hills south-east of the pilons we had a 1st winter Steppe Grey Shrike and a Lanner. On the pilons themselves there where 4 Peregrines and in the carrots fields as a present for an end we had hunting group of 18 Red-footed Falcons. The Aquila group gave 3 representatives: an adult Imperial, an immature Spotted (which is most probably a migratory bird since they don't winter over there) and a Lesser Spotted Eagle which reminded us the past 2 month in the raptor migrating survey we just had.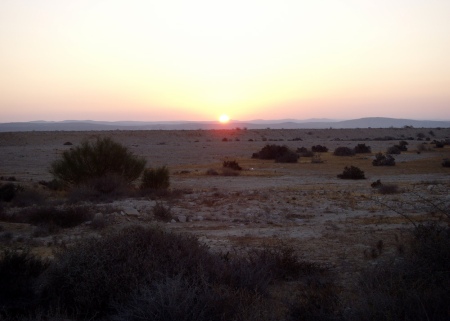 Niztana's plain at dawn, 17-Oct-2008
© All images are coutecy of Lee Gregory