Birding Reports
---
=

Eilat 16-17.5.08, by Amir Ben-dov
Amir Ben-dov My trip to Eilat started on the 16.5.08 from Tel Aviv at 02:30 early mourning, passing through Mitzpe Ramon Crater at around 04:30. On the road somewhere in the mid way inside the crater 5 Wild Ass passed the road and a single wolf (not the first time I have seen both Sp. in the same spot).


I arrived to Eilat at 06:00 ready for a sail with Avi Meir and Jonathan Meirav (the latter saw two days before, a Streaked Shearwater at the north beach of Eilat).
The sea was very high and a strong north wind offered us only 1 Sooty Shearwater, Amongst some 70 Common Terns few Little Terns and some White-eyed and Lesser Black-backed Gulls, all at all, not an amazing number of birds, none the less, a very enjoyable tour.

At 11:00 I started my land observations at the empty K19, moving to K20 salt ponds, There, a single acacia tree in the main entrance to the ponds provided me with an amazing number of warblers: Garden Warblers, Olive-Tree Warblers , Upcher's Warblers , Olivacious Warblers, some Sylvia warblers, a single Green Bee-eater, a real amazing start for an even better trip to come.

The ponds themselves were ok but except hundreds of Sand Martins, Barn Swallows, and House Martins, not too many birds, but also this was about to change.

At the birding center ponds I saw 7 Red Necked Phalaropes amongst few other waders.

Kibbutz Eilot grapes plantation provided 9 Rose-coloured Starlings, 7 Golden Orioles, amazing sweet grapes for an hungry birder and of course more warblers.

I spent the night at the very nice Ktora kibbutz hostel.
For a cost of 220 Nis (about $55) I got a huge room with TV and an amazing breakfast (enough for 4 people).

The next day (17.5.08) started at the Ktora kibbutz and cows food center.
The place was full with the Warblers Sp. seen yesterday.
The K20 filled with waders arrived at the 16th night, like it is the middle of migration time (global warming or not?)


To make the long story short(er), the dominant birds in the Arava now are Blackcaps in their thousands, Hundreds of Masked Shrikes, Over 9 Golden Orioles, thousands of Swallows and Martins and the amazing wave of the Olive-Tree Warblers (over 35 birds were counted in the 2 days), Upcher's Warblers 15 birds were counted and Olivacious Warblers in their hundreds. Now to add the tops seen in the trip, A single Great Snipe at Neot Smadar and Pacific Golden Plover in full summer plumage at K20.
An amazing number of birds for Mid May and all at all very good birding tour !



All images are courtesy of Amir Ben-dov ©.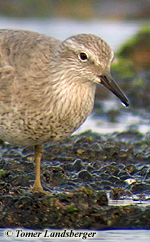 Red Knot
(Calidris canus) Acre, Jan.06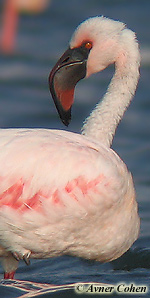 Lesser Flamingo
(Phoeniconaias minor) Eilat salt pans, Mar.06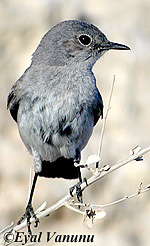 Blackstart
(Cercomela melanura) Sde Boqer, May.04