During 2003, 31 records were submitted to the Israeli Rarities and Distribution Committee (IRDC), and two additional records were reviewed based on published articles. This bulletin includes the summary of the IRDC decisions on16 records (of 14 species) that their review process has been completed during 2003. These include 11 records submitted during 2003 and 5 records submitted to the committee during former years. A total of additional 23 records currently remain under circulation of the IRDC.
The 33 records from 2003 were submitted by 9 birders. Nineteen of the records (57.6%) were submitted by J.P. Smith, followed by B. Granit, Y. Perelman and V. de Boer with 3 records each, and five other birders with a single record. Twenty records (60.6%) were from Eilat and the southern Arava / Negev, and six (18.2%) from Kfar Rupin in Bet-Shean Valley. Seven other locations had a single record each.
The IRDC would like to encourage the submission of rare bird reports from local and visiting birders. There are still a number of promising reports not submitted yet to the committee which date back to the years 1996 to 2000, before the re-establishment of the IRDC. These reports, as well as more recent ones, are most welcome. Submission guidelines, contact information and list of species reviewed by the committee are found in the IRDC web pages at:
http://www.geocities.com/birdingisrael/RC/Rarities_Committee.htm
---
Records accepted into category A:
Streaked Shearwater (Calonectris leucomelas) – One bird (possibly two) seen and photographed at Eilat's north beach, Gulf of Aqaba 2.2.03 (J.P. Smith). Third Israeli and Western Palearctic record. The two birds were seen during a strong storm of southerly winds which hindered the identification of the second individual. The previous records of this species in the Gulf of Aqaba were from the summer months.
Velvet Scoter (Melanitta fusca)– Two first-winter birds seen and photographed at Kfar Rupin ponds, Bet-She'ean Valley 4-8.12.92 (Dave Gosney and James P. Smith). Fifth Israeli record. This record is already mentioned in Shirihai (1996; The birds of Israel, Academic Press), but was never formally submitted to the IRDC.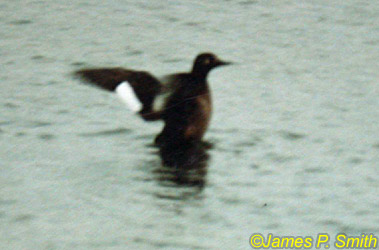 Kittlitz's Plover (Charadrius pecuarius) – One at Kfar Rupin 23.4.02 (B. Granit, seen also by N. Vinguard). This is the first full-breeding plumage and spring record for Israel of this species.
Steppe Grey Shrike (Lanius pallidirostris) – Three records, all by J.P. Smith: one at Zohar Sewage ponds, southern Dead-Sea area 21.10.98 (seen also by Frank Clark), one at Yotvata, Southern Arava Valley 11-14.11.99 (seen also by Trevor Ellery, Susannah
B. Lerman, and William Velmala), and one at Kfar Rupin 26.11–4.12.99 (seen also by Susannah B. Lerman). After the identification features of this form have been studied in the last several years, it appears that this form is not an extremely rare vagrant, but a rather fairly rare migrant in our area.
Radde's Accentor (Prunella ocularis) – One seen and photographed in Har-Gilo, south of Jerusalem, 10.1-16.2.93 (J.P. Smith).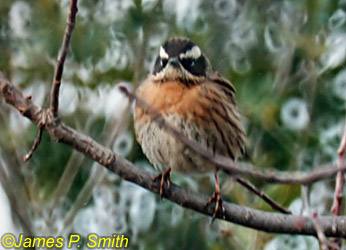 Menetries's Warbler (Sylvia mystacea) – One male at Lotan, Southern Arava Valley, 18.3–9.4.99 (J.P. Smith). Many birders saw this individual, and at least three photographed it during the three weeks it spent in Lotan.
Basalt Mourning Wheatear (Oenanthe lugens) – One seen in km 32, Southern Arava Valley 6.12.01 (J.P. Smith). Photographed by Yoav Perlman on 21.12.01. Second Israeli record of this geographically-distinct morph.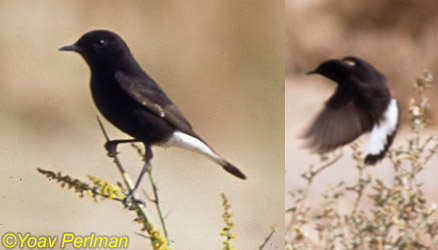 Rustic Bunting (Emberiza rustica) – One seen and photographed, km 19 sewage ponds, north of Eilat 11.11.98 (J.P. Smith and Susannah B. Lerman). This species has become extremely rare in recent years, with less than annual occurrence in the country.



Record withdrawn by the observer:
White-faced Storm-petrel (Pelagodroma marinus) – One at Maagan Michael, Mediterranean coast 9.1.02.

Rejected Records:
Bateleur (Terathopius ecuadatus) – One at Tirat Zvi, Bet-Shean Valley 23.10.00.
Sabine's Gull (Larus (Xema) sabini) – One at Jaffa, Central Mediterranean coast, 20.12.02.
Swinhoe's Snipe (Gallinago megala) – One, fields of the Hula Valley, 28.2 – 4.3.98.
Dusky Warbler (Phylloscopus fuscatus) – One at Hatzeva, Northern Arava Valley 28.1.98.
Red-rumped Wheatear (Oenanthe moesta) – One male, 27.3.03, northern saltpans, Eilat.