Introduction
Various factors, such as weather conditions (including temperature, humidity and precipitation for instance), can affect the predation habits of Owls, by having an influence on their prey's behavior and the ability of the Owl to locate and prey on it (Rubolini et al. 2002).
It has been found that in general, the climate conditions (which vary throughout seasons), have partial affect on the prey composition of Owls. The potential prey activity depends both on the season and the habitat.
This research examines the prey composition of the Little Owl (Athena noctua) and the Long-eared Owl (Asio otus) throughout the year, in different habitats, and describes the factors that influence on it.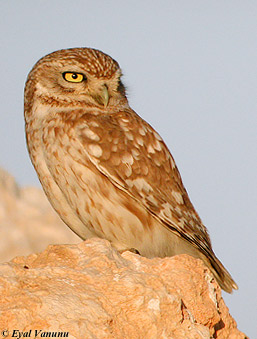 Little Owl (Athene noctua)
Methods
This research is based on field observations, pellets composition, and food remains that were collected from roosting sites and regular feeding spots of the Owls.
The Little Owl pellets collecting and field observations were conducted at Kibbutz Shala'bim, located at the Judean Lowlands.
The Long-eared Owl pellets collecting was made at the Jerusalem Birds Observatory (JBO), mainly under a roosting tree and sometimes also at hunting spots.
In total, 208 Little Owl's pellets (containing 1230 prey remains), 66 Long-eared Owl's pellets (containing 102 prey remains), 40 Barn Owl's pellets (containing 87 prey remains) and 36 Eagle Owl's pellets (containing 110 prey remains) were examined.
Results
Results of Little Owl pellets composition
Little Owl's pellet collecting was done at Kibbutz Shala'bim, 3 times per week, during evening hours. The pellets were collected from three different territories. Their examination shows that its prey is composite from a variety of Insects species, small Mammals (mainly House Mouse, Mus musculus), Birds and a few Reptiles.
As shown in table 1, Insects are a major component of the Little Owl diet, more so in autumn then in winter and spring, while Birds were hunted only in spring and early summer. Contrary to that, the Mammalian portion of the diet stays consistent throughout the year.
Reptiles represent only a minor part of the Little Owl diet.
Table 1
Species

constitute of total prey items

constitute of total prey weight

Mammals

Birds

Reptiles

Insects

Mammals

Birds

Reptiles

Insects

Little Owl

Long-eared Owl

Eagle Owl

Barn Owl



Graphs no. 2 and 3 presents the food composition in relation to night temperature. It can be concluded that Insects and Mammals are being hunted more at warmer nights and that reptiles were hunted only at nights with temperatures rising above 20°. The number of Birds that were hunted increased during relatively cold nights. There's a correlation between the no. of hunted Mice and the temp (graph 3). It seems that very few Scorpions are being hunted at all during cold nights (less than 13), thus being more frequent prey when temperature is around 20°.
No correlation was found between food composition and moon phase.


Results of Long-eared Owl pellets composition
The LEO pellets (total of 62 containing 102 prey remains), were collected at the Jerusalem Bird Observatory. It was found that Passerines made up for most of its diet, though small Rodents and Insects were found as well. In addition, some prey traces were found under roosting and hunting sites. The LEO (graph no.4) feeds mainly on birds – migrating species during spring, and residents during summer, in which time Beetles are also hunted. Mice were hunted in spring with numbers increased towards the end of the summer. In winter time, the Owls feed mainly on resident Birds but also on a few wintering species and Mice. The pellets from the JBO occasionally contained the metal rings that are being used in the nearby ringing station. This gave the opportunity not only to identify the prey to the species level, but also to get information about its age, sex, fat level and weight. A total of 14 rings were found, 12 of which on Sylvia Warblers legs (Blackcap and Lesser Whitethroat, see table no.2).

Table 2



| | | | | | |
| --- | --- | --- | --- | --- | --- |
| Species | | | | | |
| Spectacled Bulbul | | | / | | |
| Blackcap | | | | | |
| Lesser Whitethtoat | | | / | | |
| Great Tit | | | | | |
| Lesser Whitethtoat | | | / | | |
| Blackcap | | | | | |
| Lesser Whitethtoat | | | / | | |
| Lesser Whitethtoat | | | / | | |
| Blackcap | | | | | |
| Blackcap | | | | | |
| Blackcap | | | | | |
| Blackcap | | | | | |
| Lesser Whitethtoat | | | / | | |
| Lesser Whitethtoat | | | / | | |
Discussion
Little Owl
The pellets demonstrate that this species is not a specialist (fighure 3), with a diet composed of 85% invertebrates (constituting only 22.6% of the total prey weight) and 15% vertebrates. Different studies in Europe had shown that the amount of Insects in its diet drops as the climate in the breeding areas becomes colder. The results of this study are consistent with data from central (and not southern, as one might expect) Europe, even though temperatures are higher - this might be explained by habitat differences and proximity to man, as the Little Owl territory at Shala'bim is close to a dairy barn, where Mice are abundant. In general, Insects play an important part of the Little Owl's diet, similarly to the Scpos Owl and other small Owls.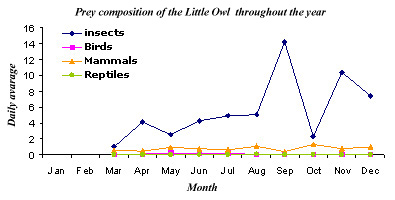 Figure 1.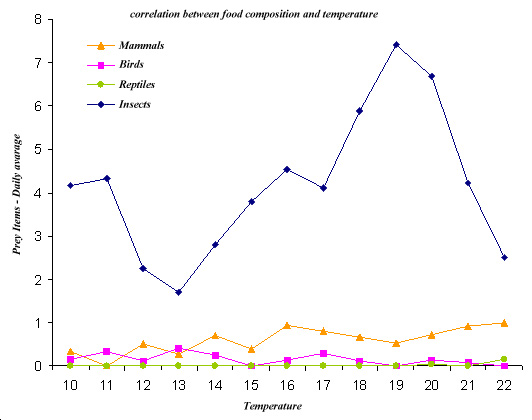 Figure 2.


Rodents and other small mammals were hunted throughout the year (figures 1,2). Mammals constituted 59.9% of the total prey weight, but only 12.27% of the total prey items. Mice were the most common prey among mammals, and thus the little Owl plays an important role in pest control in the human environment. House Sparrows were the only Birds hunted by the Little Owl. They are the commonest Bird around and were hunted only at the beginning of the summer, when many when fledglings are plentiful. Among the Arthoropoda, Beetles, grasshoppers, scorpions and ants were dominate – all are ground dwellers, commonly found at the dairy barn vicinity and the surrounding hills. Insects are being hunted more during summer, possibly because of the increase in their activity at this time of the year. Reptiles were also hunted only during summer. Ant queens were hunted only during autumn, after the first rain, while Grasshoppers were hunted during spring and summer nights, when they are most common.
As the temperature gets higher, the abundance of Mice, Grasshoppers and Scorpions rises (graphs 2 & 3). Scorpions and Grasshoppers prefer heat and are therefore active during warm nights. Beetles are active during the night and early mourning, when the Little Owl hunts, and were hunted more during cold nights. No correlation was found between the Owl's prey composition and the lunar cycle, assumingly due to the Owl's usage of artificial lighting.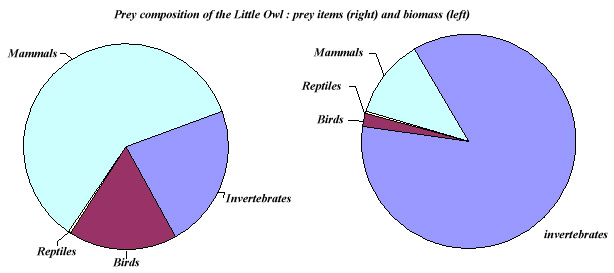 Figure 3.

Long-eared Owl
The Long-eared Owl was found to specialize on song Birds, which make up 87.3% of the total prey items and 92.2% of the biomass. This is contrary to the data from literature, as well as from central Israel, which states that this species specializes in hunting Rodents in the majority of its range (Bahat O, Leshem Y. 1991). Some populations in Italy are also known to prey mainly on song Birds, which formed 40%-60% of their prey in winter or breeding time (Mastrorilli, 1999). The hunting preference could be a consequence of the habitat in which the study was made, which contains no open fields where rodents are prevalent. During the migration seasons (autumn and spring), the Owl's pellets contained remains of migratory Bird species, and in summer, of resident species. It was found that during the winter months, most of the hunted Birds were residents but also a few migrating – possibly wintering Birds (graph no. 4). It is interesting to note, that the owl preferred the migrating species over the residents, during the seasons when both were present in their habitat. A few explanations are possible:
1. Migrating Birds are the majority of Birds during the migration seasons.
2. Migrating Birds are often exhausted, busy in feeding and less familiar with the habitat and are therefore an easier prey.
3. A high fat value makes the migrating Birds a preferred source of energy. Two migrating species - Blackcap and Lesser Whitethroat, were preyed by the owls during the migration seasons. 91% of them were juveniles, which according to the ringing data, are only 61% of the total population at the JBO.
A Long-eared Owl pellet composition
Acknowledgments
I would like to thank to all of the JBO volunteers for helping to locate the LEO and collecting pellets, to Yoav Motro – for identifying rodent's skulls and Shmoel Cohen – for his encouragement and support.
Special thanks to my instructor - Gideon Perlman.


Bibliography
Bahat O, Leshem Y, 1991, "The Owls Of Israel".
Bose, M. Guidaii, F. 2001, "Seasonal and geographic differences in the diet of the Barn Owl in an agro-ecosystem in northern Italy", Journal of Raptor research, 35 (3), 240-246.
Mastrorilli, M. 1999, "Winter diet of Long-eared Owl in Bergamo district (North of Italy)".
Rubolini, D. Pirovano, S. Borghi, S. 2002, "Influence of seasonality, temperature and rainfall on the winter diet of the Long-eared Owl, Asio otus". Folia Zoological, 52 (1), 67-76.
Tome, D. 1994, "Diet composition of the Long-eared Owl in central Slovania – seasonal variation in prey use". Journal of Raptor research, 28 (4), 253-258.